The Hydrobike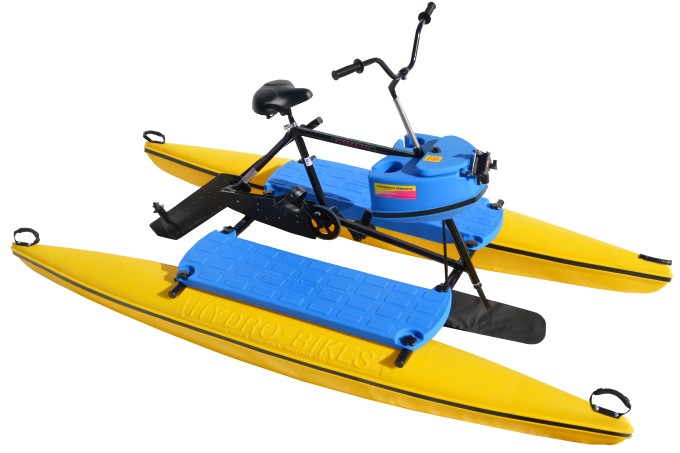 You're looking at the latest innovation in human power watercraft, the one and only, Hydrobike. Designed with you in mind, the Hydrobike is simple, fun, exciting, and safe. Easier then riding a bicycle, the Hydrobike is the most efficient and enjoyable way to get around on water. It's real off road biking that puts the whole lake, river, or shoreline at your feet. Stable enough for seniors, yet fun enough for children and grandchildren. The Hydrobike is sure to be the center of attention everywhere you go and its whisper quite. So you can share the moment or simple enjoy the great outdoors. Imagine be able to tour the waterways with out disturbing the natural habitat. That is one of the greatest pleasures of owning a Hydrobike.
Scientifically designed, the Hydrobike is safe and it's fast. Cruising at speeds of up to 6mph. This water bike can easily out run canoes and padding boats and for family fun, there is no better group activity.
"My first expose to the Hydrobikes was at a sportsman show when I walked by and thought 'now this is a neat toy'. This is a great recreational thing and started to figure how I might have one some day and thought a lot about it and ended up buying one five years ago. The thing I have discovered is that I thought that they were great for recreation, there are probably the best relationship water toy I have ever seen, because when you are on them you next to someone and the ability to talk back and forth and enjoy that conversation. While I find with other water toys you're looking at someone's back all the time and you just don't have the conversation that you do on these Hydrobikes. They are great for building relationships, great for friends going out and talk, for family live, and I have even seen them used in bible camps settings where councilors have been able to use them with camper. Just to get out and get away. They are wonderful for that."
- Pastor Ken Carlson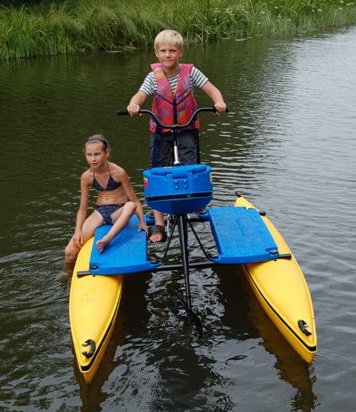 Hydrobike's unique design offers a platform stable enough for sunbathing, or swimming, or even scuba diving. So you won't be held back with a Hydrobike. In fact, Hydrobikes can negotiate channels as narrow as five feet and in less then a foot of water. It even goes in reverse!
Anyone interested in nature will love the unique vantage point a Hydrobike provides. The elevated position of the rider allows for perfect viewing into the water. And it's safe, because it is easier to see and be seen.
Hydrobikes are environmentally friendly. You will have the pride knowing that your Hydrobike doesn't pollute air or the water ways.
And if you love to fish, you'll love the visibility, safety, and stability. Wither your bass fishing, bone fishing, or even fly fishing, you will appreciating the commanding view you get from a water bike. The record so far is a 30 pound salmon caught in Juno Alaska.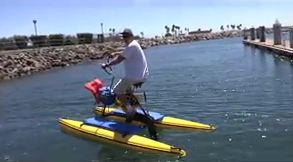 Totally portable, you can take the Hydrobike anywhere. It assembles and disassembles in minutes without tools. The basic bike weighs a little over 100 pounds so lunching and beaching is a breeze. After a rain storm you don't have to bail out water like you do with paddle boats or row boats. Managers of rental locations world wide are delighted with the maintenance free operation of Hydrobikes even in the most extreme locations.
Three time Olympian, John Howard, said Hydrobike is a pioneer in the engineering field of water cycling we use Hydrobike drivetrans on our wave sprinter because they are the strongest and most reliability in the industry.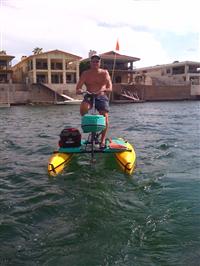 In fact, the Hydrobike's durability was proven during a trouble free, 67 day, 1100 hour endurance trip up the Mississippi river, not one minute of down time was due to mechanical problems. Simply rinsing the bike with fresh water and lubricating moving parts with non-polluting approved lubricants is all the maintenance necessary in salt water environments. And you're protected with a full one year warranty.
So wither you're looking for fun, fitness, or the adventure of exploring the great outdoors, you owe it yourself to explore the benefits of owning a water bike, Hydrobike Cruiser, or any of the other high quality Hydrobike products we offer.
Hydrobikes are sold by Hydrobikes and their dealers.